Mars landing: Devon textiles firm created parachute fabric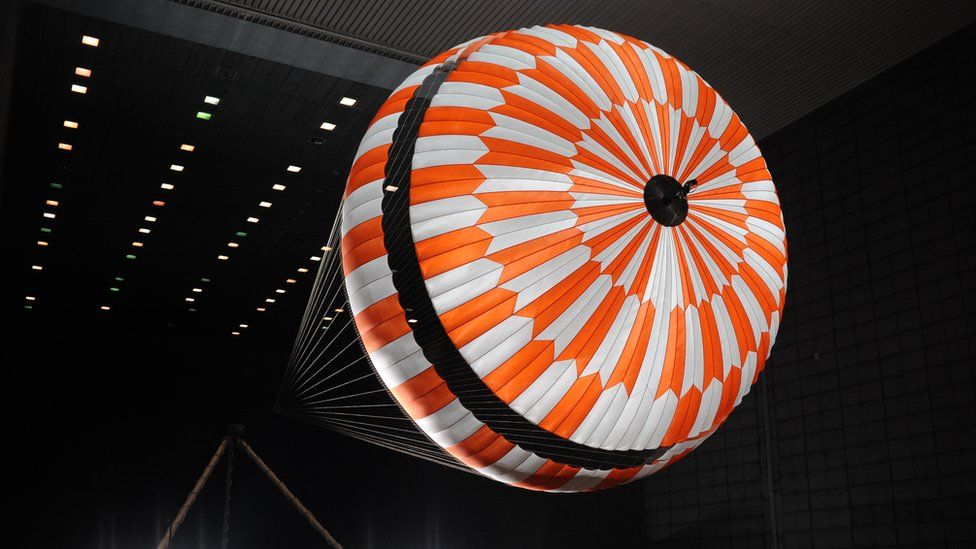 A textiles company in Devon is responsible for creating a hi-tech fabric that allowed NASA's latest rover to land safely on Mars.
The Perseverance Rover required a special canopy to slow the spacecraft as it was dropped on to the planet's surface.
The lightweight material was produced in a factory in Tiverton, before being sewn together by engineers in the US.
Heathcoat Fabrics said it was "very, very proud of the achievement".
Peter Hill, director of the company's woven fabric department, said the successful landing had been a culmination of "15 years' hard work".
Heathcoat Fabrics was approached by NASA to create the "bespoke" fabric after exhibiting their work at industry events in the US.
The team needed to produce a material that could withstand extreme heat while being strong enough to carry the $2.7bn (£1.93bn) cargo safely.
This would allow the parachute to slow the spacecraft from its travelling speed of 20,000km/h (13,670mph) (16 times the speed of sound) for a "soft landing" on Mars.
The unique fabric was developed using a high-tenacity nylon yarn spun at high speed, before being washed, coloured and processed with a special finish to ensure its "rapid deployment", Mr Hill said.
The material was then sewn into its parachute form in the US and tested in the world's largest wind tunnel.
Mr Hill, who watched the event from his home, said he "kept it pretty cool until the last seven minutes" at which point he ended up "on his knees in front of the TV".
"With all the testing we and NASA had done, we were confident the fabric for the parachute would work, but there are all sorts of things that can go wrong when you're going all the way to Mars."
The parachute would now stay on Mars until there are people there "to come and tidy up", he added.
Technical director Richard Crane said: "It is an incredibly emotional moment, when you know that millions of people around the world are holding their breath, waiting for news of a successful touchdown, and that part of that success is down to the efforts of our fantastic team here in Tiverton."