Major incident declared over Johnsons the Cleaners fire in Exeter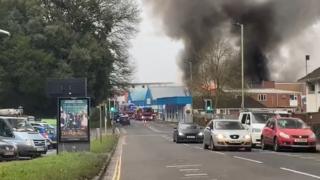 A major fire has broken out at a dry cleaning shop.
The blaze at Johnsons the Cleaners in Cowley Bridge Road, Exeter, has been declared a major incident by police.
No-one has been injured but police have closed the road and evacuated some buildings, while Network Rail has reopened the rail line.
Fire crews are working to stop the blaze spreading to adjacent buildings and contain chemicals that were in the building.
The fire service said "there is low hazard asbestos involved but fortunately there are no casualties."
People living nearby including University of Exeter students at Duryard Halls have been asked to keep their windows and doors closed.
All rail services between Exeter St David's station and Tiverton Parkway were closed for several hours because a wall collapsed on to the line.
Cowley Bridge Road is closed in both directions from Stoke Road to New North Road and the road is expected to remain closed for some time.
Insp Lee Groves said: "We are currently treating this as a major incident and our colleagues at the fire services are working to contain and control the fire.
"I urge the public to respect the cordons, not to put themselves in harms way and for nearby residents to keep all doors and windows shut due to the level of smoke."