Storm-hit Dawlish railway line 'may be moved out to sea'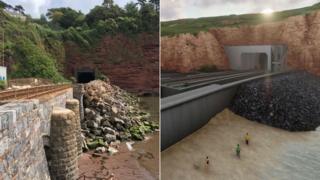 A coastal rail line could be moved out to sea to protect it from the weather.
The main line near Dawlish in Devon collapsed and was washed into the sea during storms in February 2014.
Work to raise the sea wall at Dawlish has already started but Network Rail is also looking at ways to protect the line between Holcombe and Teignmouth.
Network Rail said protecting the 1.1 mile (1.8km) stretch of railway included moving it away from sections of unstable cliffs.
It said these posed the "greatest hazard" and the proposals would "protect the railway for generations to come".
Local resident Jacquie Goldby said it was "imperative" the line remained open but compromises might be needed.
"We have to keep the South West open to the rest of the country, but we equally want the beautiful scenery. We want everything, I'm afraid, and that's the problem," she added.
Network Rail said the design would require some land reclamation to allow a buttress - a sloping rock structure to stabilise cliffs and protect the railway - to be built.
It added that an enhanced sea wall was also needed to "absorb the energy of the waves" to protect the realigned railway if relocated away from the cliffs.
The proposals also include enhanced leisure access, cycling and walking routes and new amenity areas so that beach users "continue to enjoy the space and views".
The track, which links Devon and Cornwall with the rest of the country, has proved susceptible to flooding since it was repaired after the 2014 storms, forcing services to be suspended on multiple occasions.
A public consultation on the plans is running until 15 July.