Missing Liverpool fan found in Madrid was arrested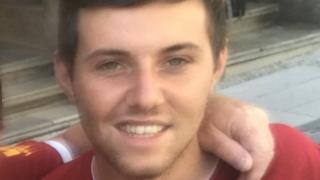 A Liverpool fan reported missing in Madrid following the Champions League final was arrested, his family has confirmed.
Macauley Negus, 23, from Plymouth, went missing in the Goya area of the Spanish capital after the game on Saturday.
Madrid police said a man was arrested for "trying to assault" an officer.
Mr Negus's family told Plymouth Live they were still waiting to "find out the facts of why he was detained by police".
Spanish broadcaster TeleMadrid reported he had been detained by police.
A spokesman for Spanish police would not confirm the name of the man involved, but said he had been in front of a judge on Monday morning.
Mr Negus went missing after driving to the Spanish capital for the game with his father Darren.
Darren Negus said: "I'm still at the court house in Madrid waiting to see my son Macauley, and find out the facts of why he was detained by the local police."
He said the family had "not been officially told anything at the moment" and would make a full statement later on Monday.
The family thanked "the thousands of Liverpool fans and people across the globe" who had messaged them over the last 24 hours.
Ashley Negus said his brother had "lost his phone" after celebrating Liverpool's win.
An appeal to find him was widely shared on social media and he was officially reported as missing on Sunday night.
A spokesperson for the British Embassy in Madrid confirmed it was "supporting the family of a British man who has been arrested" and that consular staff were in contact with Spanish police.
Tens of thousands of fans travelled from the UK to the city to watch Liverpool beat Tottenham 2-0 at Atletico Madrid's Wanda Metropolitano stadium.
An estimated 750,000 people lined the streets of Liverpool on Sunday as the team paraded the trophy round the city.