Nicky Reilly 'didn't intend to kill himself' in jail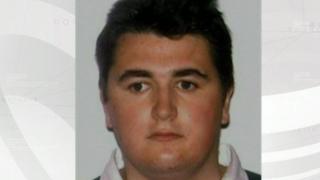 A man who had been jailed for a bombing attempt did not intend to kill himself in prison, an inquest jury has found.
Nicky Reilly, 30, from Plymouth, was found hanging from a light fitting in his cell at HMP Manchester on 19 October 2016.
He had converted to Islam before his attempt attack in Exeter in 2008 in which he only injured himself.
After a two-week hearing, a jury concluded it was "likely" that Reilly did not intend to end his life.
It found that he "acted impulsively" because of his Asperger's syndrome and a personality disorder.
Giving evidence last week at Heywood Coroner's Court, his mother Kim said her son had self-harmed from a young age.
Reilly, who changed his name to Mohammed Saeed Alim, continued self-harming while being treated at high-security psychiatric hospital Broadmoor between 2009 and 2014.
He was sent there after pleading guilty to attempted murder and preparing an act of terrorism and was ordered to serve a minimum 18 years of a life sentence.
He was moved back to a regular prison after attacking staff in July 2015 over a ban on communal prayers.
'Significant concerns'
Joanne Kearsley, HM senior coroner for Manchester North, said it was a "truly tragic case".
She said she could not imagine how difficult his mother's life had been following her son's death.
Ms Kearsley said the court had heard evidence that raised "significant concerns" and was likely to form part of a report to prevent future deaths.
She said she was not satisfied the Prison Service's central management group for Reilly had a clear plan and oversight of his needs.
She also questioned whether a form of review should be considered for prisoners who had recognised lifelong mental health disorders where risk of self-harm was chronic.