Devon councillors' protest over sexual harassment accused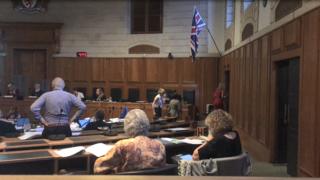 Councillors have repeatedly walked out of meeting in protest over a colleague who is alleged to have sexually harassed staff.
Seven members of Devon County Council left the chamber on the three occasions when Brian Greenslade spoke.
He was found to have sexually harassed female members of staff by a council standards committee in July.
Councillor Emma Brennan said: "I feel offended that he is allowed to continue and sit in the council chamber."
"We [the seven Labour councillors] decided to walk out or turn our backs to him, as we don't want to acknowledge him and we don't think his presence is welcome."
The protest took place during a full council meeting on 6 December.
Mr Greenslade has released a statement through his solicitor indicating that he plans to challenge the council's decision to censure him.
He claims he was not given a fair hearing "as required by the Human Rights Act and the council's own constitution".
Mr Greenslade represents Barnstaple North and, having been suspended by the Liberal Democrats, currently sits as a North Devon Liberal.