'Despicable' mother who left baby brain damaged is jailed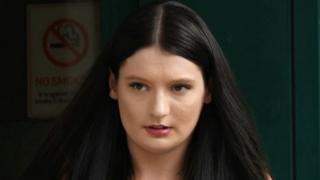 A "manipulative and devious" mother who left her baby fighting for his life after shaking and hitting him has been jailed for seven years.
Elizabeth Wilkins, 24, left her three-month-old son with a fractured skull and brain damage.
Wilkins tried to blame the baby's father but he was cleared of assault.
She resented the baby for "interfering with her life" and "clipping her wings" said Judge Peter Johnson, sentencing her at Plymouth Crown Court.
"Many parents feel the same but they do not resort to violence," he said.
The "intelligent and articulate" former law student had suffered from an upbringing with a violent and alcoholic mother, the judge added.
But she had been "manipulative and devious" in accusing her partner, who was "devoted" to the baby.
He called the attacks "despicable" and blamed her for a delay in getting her son to a doctor after his skull was fractured. She had hit him against a hard object.
"You simply left him alone while the injury got more serious," he said.
Wilkins, who worked as an escort while studying at the University of Plymouth, was found guilty of assaulting her child causing grievous bodily harm with intent on 22 September 2016.
She was also found guilty of causing actual bodily harm on 1 September 2016.
Piers Norsworthy, defending, said Wilkins had suffered from a "sadistic and violent upbringing".
"She was of good character and was doing her best to address the difficulties from her younger years and the influence of her mother."
She had also been diagnosed with depression before the attacks.
Wilkins, who had been awarded a musical scholarship to a private school, has left the university.