Falmouth coastguard criticised over Solstice trawler death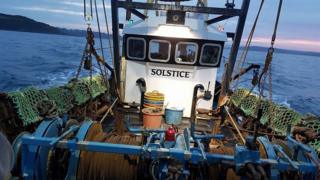 Coastguards were "overwhelmed" and "distracted" when they responded to the fatal sinking of a fishing boat, says a report.
One fisherman died and two were rescued after their trawler Solstice capsized off the coast of Plymouth in 2017.
The Marine Accident Investigation Branch (MAIB) report concluded, though, that coastguards could not have prevented the death of Tony Jones.
It states the vessel capsized due to of a lack of safety precautions onboard.
Solstice overturned on the evening of 26 September last year as trawlermen tried to haul in nets full of fish.
An investigation revealed the vessel had been modified without consideration to stability and it was not fitted with a positioning beacon, which hampered the rescue mission.
More news and stories from Devon and Cornwall.
It also highlighted issues with HM Coastguard staffing levels and communication between the Coastguard Operations Centre in Falmouth and RNLI lifeboat staff.
Some of the criticisms highlighted in the report:
Coastguards should have attempted to make radio contact with Solstice sooner
Search and rescue teams should have been scrambled quicker
A search and rescue plan was devised too slowly
Delays were partly influenced by workload
Falmouth Coastguard Operations Centre was staffed by two officers - one fewer than the recommended number
Coastguard officers were "overwhelmed" during the initial and planning stages of the search and rescue mission
Coastguard's duty controller was "distracted"
A lack of support from the coastguard's national network, which "had routinely operated with a 10% staffing shortfall"
Lifeboat crews were frustrated by the coastguard's "perceived reluctance" to launch a search - this led to the decision by the coxswains of the Plymouth and Looe lifeboats to self-launch
Falmouth coastguard operations officers lacked local knowledge
Local knowledge of the RNLI lifeboat crewmen was not used effectively
The emergency response was hampered by "several minor IT issues"
Since the incident the Maritime and Coastguard Agency (MCA) has taken action to ensure staffing levels are maintained and improve levels of communication between the coastguard and RNLI.
The MCA said in a statement: "The sinking of the Solstice was a tragic incident, causing a loss of life which we know is still felt deeply in the community.
"Staffing on the night watch during that time was in excess of the recommended levels and included seven specialist search and rescue mission coordinators.
"We will address the MAIB recommendations ensuring we continue to review and assess the way we do our search and rescue work on an ongoing basis."
Tony Jones' partner, Chantice, said she phoned the coastguard to say her husband was late but said no-one took her seriously.
"[It was] bitterly frustrating knowing that I knew there was something wrong and I wasn't really being listened to," she said.