Giant Christmas tree on van caught on A38 police camera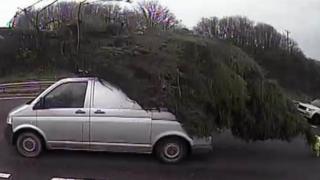 A giant Christmas tree being transported on top of a van on a dual carriageway has left police lost fir words.
The image was taken by one of Devon and Cornwall Police's speed camera vans on the A38 on Saturday.
PC Jane Bickley shared the "shocking" image on Twitter as a warning to other drivers travelling with large loads.
"We all know it's a hectic time of year but please consider the suitability of your vehicle," she said.
Officers said the van was spotted on the Plymouth-bound carriageway between Deep Lane junction and Marsh Mills at about 13:20 GMT on Saturday.
The image has attracted a number of comments on social media, with one Twitter user calling it "seriously stupid".
Others pointed out the fact the driver had put a high-vis jacket on the end of the tree.
You may also like: