Plymouth theatre's bronze sculpture will be 'UK's largest'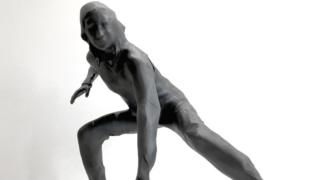 A piece of art inspired by an actor's on-stage pose will be the UK's largest cast bronze sculpture when it goes on display next year.
The 7m (23ft) sculpture, called Messenger, will be installed outside the Theatre Royal Plymouth.
Sculptor Joseph Hillier was inspired to create it by an actor rehearsing Shakespeare's Othello at the theatre.
He said its name refers to the "pivotal" role of a performer to "breathe life into words".
The sculpture, commissioned by the theatre, had a working title of Bianca after the character whose "split-second pose" is the basis for the piece.
"This work offers a young, powerful woman, a potent force about to transform the world by her actions," Mr Hillier said.
"The actor carries the voice of her playwright or director - she carried a message.
"It's a metaphor for what great theatre does," he added.
Latest news from Devon and Cornwall
More than 200 bronze panels are being welded together at the Castle Fine Art Foundry in Llanrhaeadr-ym-Mochnant, Powys, using the technique of lost wax casting.
The sculpture will weigh nine and a half tonnes and is too large to be put together inside the foundry.
Cornish sculptor Mr Hillier said he was "taken aback" when he first saw the completed leg section.
"It's a really big piece - if I lay on the floor, I'm the size of one of the feet," he said.
It is set to be unveiled at the Theatre Royal in spring next year as part of its £7.5m regeneration project.
Visitors will be able to walk under Messenger's body "into the theatre, like an archway".
Making Messenger
The Theatre Royal said it is "by far" the UK's largest bronze sculpture by volume, at 25.6 cubic metres
It was created using 3D scans taken from the actor
It is 7m (23ft) high, 8.7m (29ft) wide and 5,5m (18ft) deep
It will be made of more than 200 individual bronze panels
Each panel weighs about 35kg (77lbs)
In total, 30 craftspeople have worked on the construction