Devon fire service 'cover-up on' Royal Clarence Hotel blaze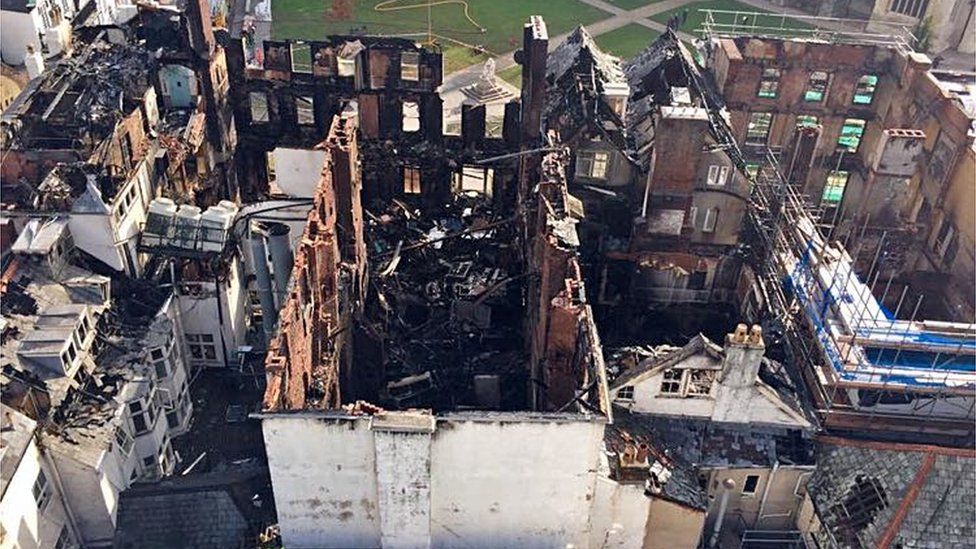 A former senior fireman has accused bosses of "covering up" a missed opportunity to save one of Britain's oldest hotels from a devastating fire.
Dave Jones, who was sector commander for Exeter's Royal Clarence Hotel, said he told incident commanders he had found a fire on the third floor.
The Devon and Somerset service said it was "impractical" to include it and his evidence had not been "verified".
Mr Jones, who had gone into the hotel for an inspection at about 08:00 BST on 28 October 2016, told an inquiry he informed commanders fire was developing in the building.
He said he advised that firefighters be sent back in but his advice was not followed.
Fire burst through the roof at about 10:00 and the hotel then burned to the ground.
"Ninety percent of that hotel was perfectly intact and we could have and should have gone back in," Mr Jones, who has now retired, told BBC Inside Out South West.
"I needed them to give me the authority to do that.
"They just looked at me blankly."
Devon and Somerset Fire Service's official report makes no mention of Mr Jones's evidence to the inquiry.
Mr Jones said: "I was gobsmacked.
"I was told they believed me, but it didn't go into the report."
The fire service denied a cover-up and said in a statement: "There was lots of information given about actions taking place throughout the incident.
"It would have been impractical to include all of it in the report."
You can see more on this story on BBC Inside Out on BBC One in the South West at 19:30 GMT on Monday 19 November, and afterwards on the BBC iPlayer.
Related Internet Links
The BBC is not responsible for the content of external sites.