Flooding closes railway line at Dawlish sea wall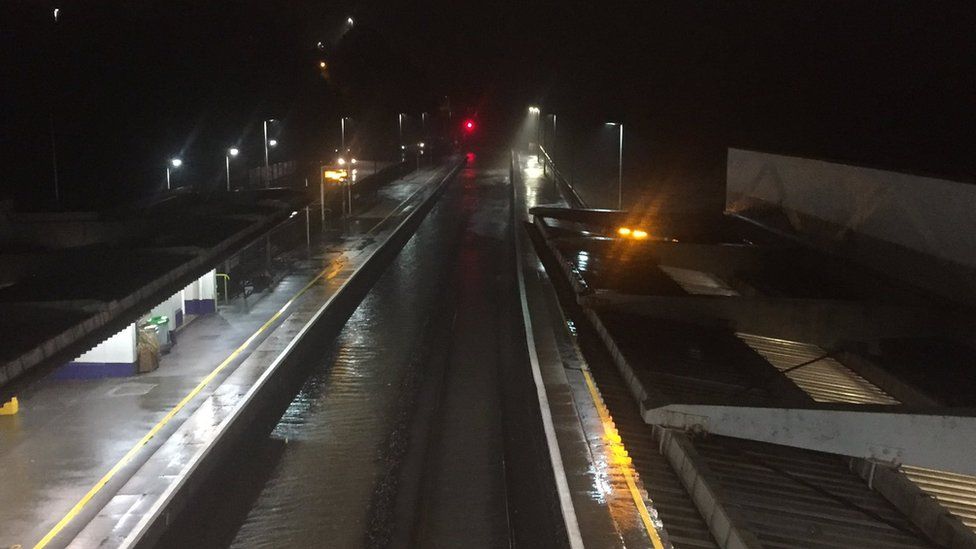 A railway line has been closed after high tides washed over a sea wall in Devon and flooded the track.
Network Rail has advised train operators Crosscountry and Great Western Railway the sea wall at Dawlish will not be passable for the rest of the day.
Train services are not operating between Newton Abbot and Exeter St Davids.
A 50mph speed restriction is also in place between Taunton and Plymouth.
Crosscountry said it had been advised services could not resume "until sea levels reduce and the railway line can be inspected".
In 2014 storms caused a section of the Dawlish sea wall to collapse, leaving the rail track to Cornwall suspended in mid-air.
And in October flooding opened a 6ft hole under the line, halting services through Devon and Cornwall.
Great Western Railway and Crosscountry are accepting each others tickets on their rail and bus replacement services for the rest of the day at no extra charge.
Related Internet Links
The BBC is not responsible for the content of external sites.