Remembrance Day: Coca-Cola truck Exeter visit criticised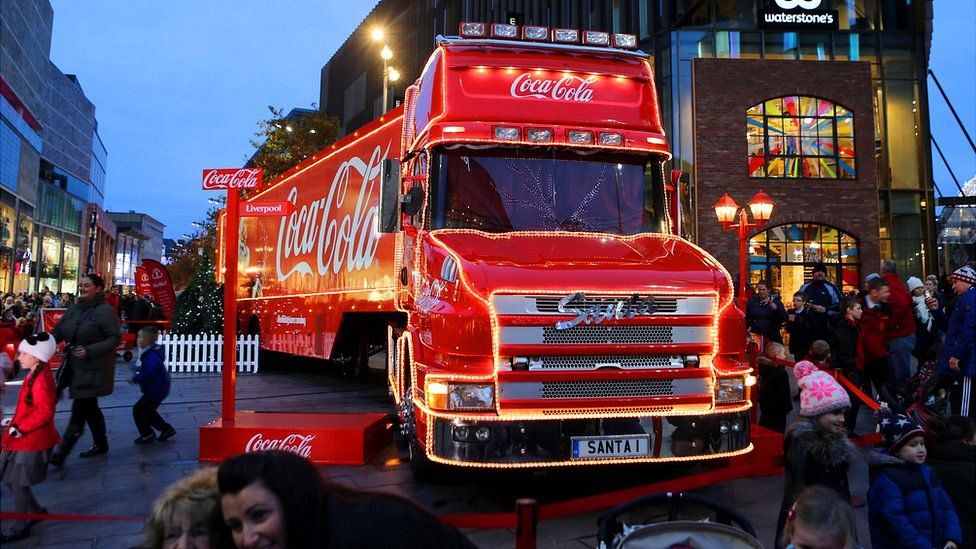 Coca-Cola's plan to roll out its famous Christmas truck on Remembrance Sunday has been criticised.
The US soft drinks giant - which has toured its festive vehicle around the UK for the last eight years - will stop in Exeter on 11 November.
Local MP Ben Bradshaw called for "a break" from "rampant pre-Christmas commercialism" on Armistice Day.
The firm said its event would begin an hour after the traditional two-minute silence at 11:00 GMT.
A team of staff hands out cans of Coke from the bright red truck - modelled on the vehicle seen in its famous Holidays are Coming television commercial.
Adorned with a SANTA 1 number plate, it also sports bright lights along the length of its cab and trailer.
Various memorial and remembrance services are taking place in Exeter on Sunday, including a wreath-laying at the County War Memorial and a cathedral service.
Criticising the truck's scheduled appearance in the city, former cabinet minister Mr Bradshaw said he didn't want to be a "scrooge", but felt Sunday should be reserved as a "special day of remembrance".
This year was "particularly poignant", he added, as it marked a century since the end of World War One.
In a statement, Coca-Cola said it recognised Remembrance Sunday was "an important and significant day for people both here and elsewhere".
"That's why the event will not begin until 12pm. As we have done in previous years, we will be encouraging all of our crew on the truck tour to wear a poppy if they wish to and we will ensure the two minute silence at 11am is properly observed by our team when they are setting up."
It will be at Princesshay shopping centre on Saturday and Sunday from 12:00.
Related Internet Links
The BBC is not responsible for the content of external sites.