Torquay man built up arsenal to guard against 'apocalypse'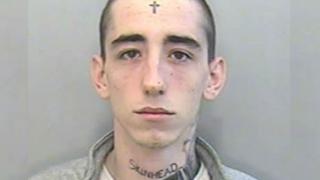 A right-wing extremist has been jailed for building up an arsenal of weapons to guard against "the apocalypse".
Tobias Ruth, 24, was found with a home-made stun gun, an air rifle, and a large collection of knives when police raided his home in Torquay in August.
He admitted possessing an illegal weapon and a firearm within five years of being released from prison.
Ruth, who describes himself as a "doomsday crank", was jailed for 18 months at Exeter Crown Court.
More stories from across Devon and Cornwall
Mr Kenneth Bell, prosecuting, told the court that Ruth had built a device out of two electric fly swats but tests by police showed it did not work.
Mr Kevin Hopper, defending, said: "He describes himself as believing in the apocalypse and being a doomsday crank, but the weapons were indoors and there is no suggestion he carried them with him.
"The issue is more about his unhealthy interest in weapons in general."
He had already served a prison term for a hate campaign against mosques.
Ruth and a friend sprayed the letters KT on 72 buildings, signs or cars around Torbay, in honour of Norwegian mass murderer Anders Breivik's Order of the Knights Templar.
The two men also sent poison pen style letters to Mosques or Islamic prayer centres in Plymouth and Brighton and were planning to send them to others all around Britain.