Shaldon Bridge support pier made of wood not concrete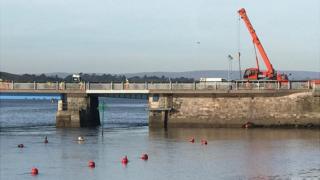 A defective bridge has had a weight restriction placed on it after safety concerns were raised by engineers.
An inspection by Devon County Council revealed that one of the supports of Shaldon Bridge was actually made of deteriorating timber, not concrete.
The council said the other four supports will now be inspected to determine their quality.
Vehicles that weigh more than three tonnes will not be allowed to cross for at least three months.
The original drawings for the 87-year-old bridge - which links Shaldon with Teignmouth - showed the five support piers constructed from steel and concrete.
An "extremely difficult" further inspection - which takes place on 29 October - will be carried out by a commercial diving contractor.
Latest news from Devon and Cornwall
Councillor Stuart Hughes reassured residents that the bridge was "safe to use".
"At this stage we do not know how long the weight restriction will be in place and it is dependent on what the inspection finds," he said.