Devon and Somerset Fire cuts could end 'cat up tree' rescues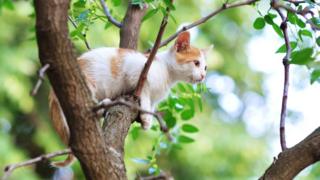 A fire service is warning it may no longer be able to rescue cats and other animals as part of cuts to spending.
Devon and Somerset Fire and Rescue Service spent more than £345,000 on animal rescues between 2014 and 2016.
It has now been tasked with saving at least £7m in the next four years alongside similar cuts imposed on fire services across the country.
The force said it has to rethink how it responds to non-statutory call-outs such as flooding and animal rescues.
Peter Bond from Devon and Somerset Fire and Rescue said the service was looking at ways to "not only survive, but thrive in an increasingly uncertain future with a shrinking budget".
Between 2014 and 2016 fire crews were called to 694 animal rescues in the region.
Across the UK, during the same period, the cost of animal rescues reached at least £6m with an average cost of £400 per rescue, Freedom of Information requests show.
Mr Bond said the service was assessing how resources could be used most effectively, although no specific proposals have been brought forward yet.
Mr Bond added: "Obviously, we are not picking things out of the air to say we don't need it any more and we are working with the evidence of what it is used for, how often it is used, and if it's relevant to the risk going forward."
"If the risk is still relevant, we will maintain and keep it, but there are some appliances that are not used and are not required to deal with the risks that we have, but we will evidence that with data."