Surge in drink spiking reports in Devon and Cornwall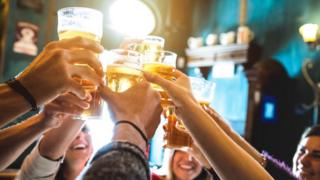 Police are providing bars with urine testing kits after a surge in reports of drink spiking in Devon and Cornwall.
Police said it was reported in Devon and Cornwall 76 times in 2017, almost double the 39 in 2016 and 19 times as many as 2015, when there were four.
April Sweet said she feared going out after she had her drink spiked on a night out in Plymouth.
Police said they are looking into the cause of the increase and urged people to "remain vigilant".
Sgt Dave Moore said the figures for Devon and Cornwall reflected "what appears to be a trend nationally where these types of incidents are on the increase".
The force is launching a pilot scheme in Plymouth - which had the most reports in the region - to help obtain a "clearer picture of what is happening".
Officers will work closely with bars and clubs including supplying them with urine testing kits "to allow officers who are attending a report of spiking to gather evidence at an early stage".
"Coupled with good CCTV, this will allow us to identify possible offences and suspects more quickly," Sgt Moore added.
'I don't trust people now'
April Sweet says she still gets nervous about going out after her drink was spiked on a night out in Plymouth.
She was found unconscious by her mum on her bathroom floor in October last year.
The 22-year-old had been out with friends and only had two drinks before she left the club by herself, but has no memory of how she got home.
April was taken to hospital where doctors told her she had been drugged.
"I stopped going out for a while," she says.
"I was very loud, very outgoing. I don't trust people now. It's always in the back of my mind."
April says she is constantly paranoid and will no longer speak to strangers when she is out.
Drinkaware said it was "difficult to know the true extent" of drink spiking.
The charity said symptoms of being spiked include lowered inhibitions, loss of balance, visual problems, confusion and vomiting.
A conviction for spiking someone's drink can result in a maximum of 10 years in prison.
Across the UK, reports of drink spiking have more than doubled since 2015, figures obtained by Freedom of Information requests by Sky News show.
Helena Conibear, director of the Alcohol Education Trust, said the majority of cases she is told about have not been reported to police.
She said she believed that many people do not report it because they "are not entirely sure what has happened" and "once they realise they think it is too late".
"It could also be the setting. If they were spiked at a private party, they might find it difficult to come forward," she added.