Rail line repaired after floods leave 6ft hole under track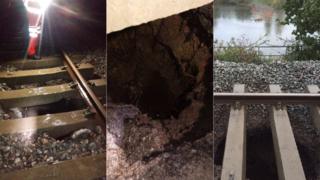 A huge hole under the main track through Devon caused by flood damage has been repaired, engineers say.
The pit, which was 6ft (1.8m) deep and 6.5ft (2m) wide, appeared under tracks after high tides engulfed the line at Teignmouth, halting services through Devon and Cornwall over the weekend.
Emergency repairs were carried out overnight on Sunday.
Network Rail confirmed on Twitter that trains were running again, "although at reduced speeds".
Replacement buses had been running between Exeter and Newton Abbot, either side of the affected lines.
However, a shortage of vehicles on Sunday led train operator Great Western Railway at one point to "strongly advise" passengers not to travel on Sunday.
Tickets for Sunday can be used on Monday.
One landowner, who did not want to be named, said he had repeatedly warned Network Rail about problems with a culvert in the area.
Julian Burnell, from Network Rail, said specialist engineers were investigating but there were not any "very simple answers".
He said: "Whatever we do down that line is going to have some kind of effect on some very sensitive and some very scenic and very protected landscape."
A section of the line was washed away at Dawlish in 2014, cutting off the service linking Cornwall and much of Devon with the rest of the UK for two months.
Commenting on the region being cut off again, Plymouth Labour and Co-Operative MP Luke Pollard said: "The south west has had enough and I have had enough.
"The lack of action by government on improving our railway is causing real damage to our economy.
"It's time for ministers to put their hands in their pocket. I want to see funding announced for proper resilience at Dawlish within the next month and a commitment to fund the rail upgrades we need announced in the Autumn Budget."
The Department for Transport said protecting the line at Dawlish was "a national priority".