Devon, Cornwall and Dorset Police force merger 'off'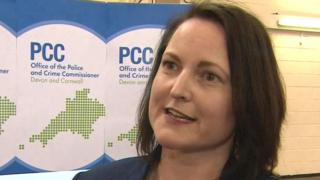 Plans to merge Devon and Cornwall Police with Dorset Police are off after a Police and Crime Commissioner (PCC) opposed the move.
Alison Hernandez said she did not want to submit the merger business case to the Home Office.
Devon and Cornwall councillors on her police and crime panel have backed her.
But Dorset PCC Martyn Underhill said it was a political decision that meant "the people of Devon and Cornwall will now pay the same for less".
He and two chief constables were in favour of the merger which he said potentially freed up money for 430 extra police officers in the area.
Ms Hernandez said the business case only proposed 100 more officers though - 70 in Devon and Cornwall and 30 in Dorset.
She said there would not be enough benefit to communities in Devon and Cornwall to justify the resulting increase in council tax.
"I don't think there was overwhelming support from the public, and there certainly wasn't overwhelming support from our elected representatives," she added.
In a statement, Mr Underhill said Ms Hernandez had stopped the proposal for, "political reasons".
He said: "The Business Case is proved, and I am frustrated that a politician has stopped a proposal put forward and supported by operational policing leaders.
"Sadly, it seems that the people of Devon and Cornwall and the Isles of Scilly will now be paying the same for less."
Devon and Cornwall Police has been working together with Dorset Police in a strategic alliance since 2015 in back office and some operational areas including dogs and firearms.