Playful starling poses for selfies in Devon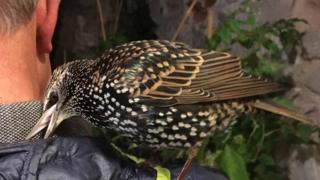 An "unusually tame" starling has been on a city pub crawl in Devon.
The bird, which behaves as if it is hand reared, first turned up at the Passage House Inn, Topsham, on Monday.
Its behaviour - flying into people's hands and hopping onto their arms for selfies - is the exact opposite of what is normal for its species.
The RSPB said that the bird had "lost its natural fear of humans" as it appears to have been regularly fed.
The bird visited two other pubs within the Topsham area where it posed for selfies on people's heads.
Pub customer and wildlife specialist Jayne Farleigh, from Kingsteignton, took the bird home after fearing it may fall victim to a cat or other predator.
She has now posted on Facebook to find the owner of the starling, which she believes is a pet.
She said: "I was quite concerned about him.
"I'm thinking he must belong to somebody, somebody has hand reared him and I'm not sure if they've tried to release him with the intentions of him going back into the wild or whether they've lost him.
"At this stage he just seemed vulnerable. If I can't find his owner at least I can put him with a rescue centre and they'll have people who may be capable of reintroducing him to the wild."
According to the RSPB, starlings have declined by more than half in recent years, particularly in the South West.
Some 750,000 were seen in gardens throughout the UK in the RSPB 2018 Garden Birdwatch.
A spokesman for the RSPB said: "It is unusual for a wild bird to be this tame around people which suggests this particular starling has either been hand reared or regularly fed, and has therefore lost its natural fear of humans."
The charity suggests providing food in your garden to help starlings, especially in cold weather.