Escaped goat-antelope spotted near Paignton Zoo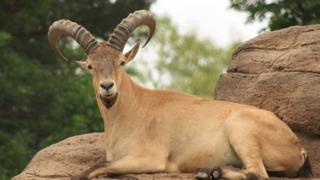 A rare goat-antelope which escaped from a zoo can be seen and heard nearby, staff have said.
The animal, a female West Caucasian tur, jumped a fence and fled into woods behind Paignton Zoo in Devon on Monday.
Her keepers "can see her", the zoo said, and are hoping the mountain-dwelling creature will return of its own accord.
"We've put down food and are sitting back and watching," said Philip Knowling, from the zoo.
On Monday, Devon and Cornwall police advised people to avoid the "horned beast", which it described as a "danger to the public".
Keepers revealed on Tuesday the tur had been spotted near to other members of the herd, "close to where she wants to be".
Read more news from Devon and Cornwall.
"She's naturally timid and there's no reason to chase her or dart her - we hope she'll walk back into safety," said Mr Knowling.
"It's a matter of waiting patiently for her to do the right thing in a way that is as stress-free for her and the keepers."
A police search was launched when the endangered species disappeared into Clennan Woods at Goodrington, which backs on to the zoo.
Keepers suspect she got spooked when animals were being moved
You may also like:
The force has since said it is no longer involved in the operation.