Triple amputee Mark Ormrod receives honorary degree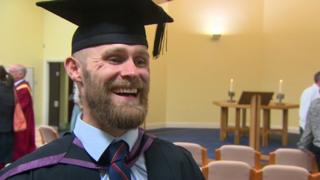 A former Royal Marine has said his life is better than it was before he lost both legs and an arm in Afghanistan as he was given an honorary degree.
Mark Ormrod, 35, stepped on an improvised explosive device while on patrol in Helmand Province on Christmas Eve in 2007.
On Wednesday, he was presented with an honorary masters degree in sports science by Plymouth Marjon University.
He said he had been "so lucky to have so many opportunities and experiences".
Both of Mr Ormrod's legs were amputated above the knee and his right arm was amputated above the elbow after the explosion.
He now works as an inspirational speaker, award-winning writer and an elite sports coach to other amputees, and is also a friend of Prince Harry.
Speaking as he received the honorary degree, Mr Ormrod said: "I honestly think, hand on heart, my life is better now than it would have been had I not been injured.
"That's because of so many great people around me who have given me so many opportunities and all the help and support I've received along the way."
Mr Ormrod won a silver medal at the Invictus Games in 2017 and will fly out to Australia next month to compete again.
He added: "It has been over 10 years now and in the beginning all you ever really think is that life is going to be terrible and mine has been the complete opposite.
"Ever since those first six months were out the way and we got through the hard times, life has been a rollercoaster."