Crisp packet graduation gown worn in Walkers recycling protest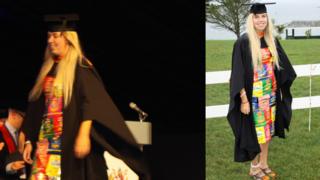 A marine biology student who wore a home-made graduation gown made out of crisp packets has used her ceremony to highlight the effects of pollution.
Emily Stevenson, 21, created the protest outfit to "send a message to Walkers" which she said should do more to reduce its non-recyclable packaging.
Campaigners 38 Degrees claim Walkers makes 7,000 crisp packets per minute.
The firm has said the packaging for all of its products would be recyclable, compostable or biodegradable by 2025.
Currently its crisp packets are made from a type of metallised plastic.
More on this story and other Devon and Cornwall news
Ms Stevenson said she was "not a fashion person at all" and the dress took her "at least 20 hours" to stitch together using needle and thread.
She wore the creation to her graduation ceremony at Plymouth University on Monday after becoming inspired by the "ancient crisp packets" that she found littered on the beach.
"I was a bit worried people wouldn't get why I was doing it, but everyone loved it.
"They got it straight away, and everyone was asking for photos," she added.
You might also be interested in:
On its website Walkers states it is "working tirelessly to tackle waste challenges", but Ms Stevenson was unsatisfied with its plan to be 100% recyclable by 2025.
"Between now and 2025 they will have created another 28 billion non-recyclable crisp packets. I want them to reduce the time it will take to implement their plan."
A spokesperson for Walkers said protecting the planet was "hugely important" to the company and there were "a number of initiatives" it was undertaking to reduce the amount of packaging it used.
"We don't have all the answers yet, which is why we're collaborating with a number of leaders in this area to learn and share the latest science and practical solutions," the spokesperson added.