South West Water to take action over 'bio-beads'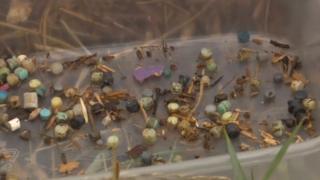 A water supplier says it will take action to prevent "bio-bead" plastics from escaping into the environment.
The pellets will no longer be used to filter waste at South West Water's sewage works at Gorran Haven in Cornwall.
Environmentalists have campaigned against the use of bio-beads for two years, over concerns they could be harmful to wildlife.
The supplier is also installing extra screen meshes to stop beads escaping.
More on this story and other Devon and Cornwall news
South West Water currently uses bio-beads in nine of their 655 sewage works, but in large numbers.
In 2010, a steel mesh at a plant on the Truro River in Cornwall split, causing around 5 billion bio-beads to escape.
An investigation by BBC Inside Out South West found there are about 40 billion still in use in treatment tanks at the head of the Plym estuary.
Metal mesh screens are supposed to keep the pellets within their tanks but the programme found biobeads littering the banks of the Plym Estuary.
Over an 18-month period, campaigners from the Cornish Plastic Pollution Coalition collected about nine million plastic pellets, from a 100-yard stretch of Tregantle Beach, Cornwall.
Most of them were found to be biobeads.
Tests conducted by Plymouth University found some escaped bio-bead pellets contained toxic chemicals such as lead, bromine and cadmium which can pose a risk to the health of wildlife.
'Unacceptable'
A spokesperson for South West Water said: "Since the introduction of bio-beads, we have acknowledged that there were a small number of historic, partial discharges from some of the treatment works that use them".
"These discharges were subsequently cleaned up and steps were taken, and continue to be taken, to prevent beads escaping from our works.
"Any escape of beads is unacceptable.
"As part of our next five-year regulated business plan we will continue our significant investment to protect the environment and plan to convert the bio-bead treatment works at Gorran Haven into an Activated Sludge Plant, which does not use bio-beads."