Prince Harry warns marines of 'blood, sweat and tears'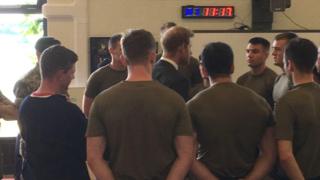 The Duke of Sussex has warned young marines to be ready for "blood, sweat and tears" in the months ahead.
Prince Harry was speaking to recruits during his first visit to the main training base in Devon as Captain General.
He told the marines - who are a fortnight into 32 weeks of training - that they are in "one of the world's best jobs".
Harry took over the role of Captain General from the Duke of Edinburgh.
More on this story and other Devon news
Speaking to one group of marines, Harry asked: "Are you all a bit like rabbits in the headlights? You're going to need each other, that's for sure."
Harry, a former Army captain who served in the forces for 10 years, added: "It's going to be blood, sweat and tears."
"Every single time you end up going to bed where you're crying, or got a sore leg, or an emotional issue to have to deal with - but it is without doubt probably one of the best professions you can ever be involved with."
"You guys are in one of the top jobs - you get to be a marine and get to do everything that comes along with it."
Harry was flown to the Royal Marines' Commando Training Centre in Lympstone, near Exeter, in a maritime attack helicopter.