Devon and Cornwall police chief's ex-partner sentenced for stalking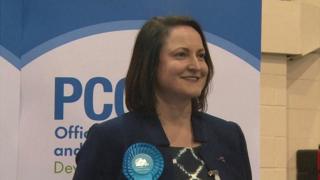 The former partner of a police chief has been given a suspended sentence for assaulting and stalking her.
Devon and Cornwall police and crime commissioner Alison Hernandez was assaulted by chartered surveyor Gil Winfield, and stalked when she ended their relationship.
She said her role made her reluctant to report his abusive behaviour.
Winfield, 48, was sentenced to 15 months in prison, suspended for two years.
He was also ordered to complete 180 hours of unpaid work and attend a 15-day rehabilitation programme.
The judge at Exeter Crown Court also imposed a 10-year restraining order preventing him from contacting Ms Hernandez.
See more news from Devon and Cornwall
Winfield, of Cricketfield Road, Torquay, previously admitted two counts of assault which related to a "backhander" slap during an argument in Ms Hernandez's car, and him grabbing his former partner's wrists during another row.
The court also heard how Winfield turned up at Ms Hernandez's house and friends' houses and would send gifts, letters, texts and emails after their relationship broke down.
Speaking to the Mail on Sunday ahead of the court hearing, Ms Hernandez said she tried to leave Winfield "around six times" but he would talk her round.
"The police were the last people I wanted to speak to and I think he knew that and that's why he persisted," she said.
Laura Richards, from Paladin Advocacy Service said stalking was a "psychological crime that is insidious and terrifying".
"It can escalate to serious harm and homicide, as we saw with Helen Pearson's case. Victims are rarely taken seriously when they report and the pattern of escalating behaviour is often missed."