WW1 statues in Axminster targeted by vandals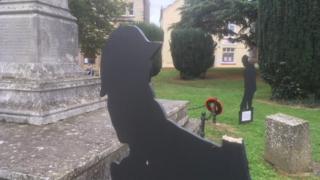 An investigation is under way after wooden statues installed to mark 100 years since the end of World War One were vandalised.
The 10 'silent soldier silhouettes' were set up in Axminster, Devon, in the run-up to the anniversary.
Since then, seven have either been damaged or disappeared.
Royal British Legion organiser and former mayor Mervyn Symes described the vandalism of the works as "totally disrespectful".
Police confirmed "criminal damage" had been caused to statues in the town.
Mr Symes said the local RBL was a "small band" and had not had enough money to afford the official soldier statues.
Instead the decision was taken to approach a carpenter who agreed to cut them out of marine plywood.
The tributes were then placed around the town. Four near the war memorial have had their gun barrels or butts snapped off.
Statues on Chard Road and near Tesco have also been vandalised while one on Lyme Road had disappeared completely, Mr Symes said.
The RBL plans to ask for the silhouettes to be re-cut in time for 11 November, according to Mr Symes, who added: "We shall replace what is broken."