Devon teenager died after taking ecstasy, inquest hears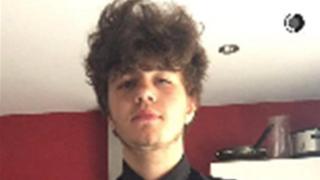 A teenager who died after collapsing on a dancefloor had a "very high concentration of MDMA" in his blood, an inquest heard.
Luke Campbell-Tapson, 16, died on 27 May 2017 after at an event at Vivid nightclub in Ilfracombe, Devon.
The inquest was told he had taken an unknown quantity of ecstasy, which he had bought two days before the over-16's event.
Assistant coroner Lydia Brown recorded a conclusion of a drug-related death.
Mr Campbell-Tapson had purchased the drugs before the event, the inquest at South Molton Town Hall heard.
Inside the club he was described as being unsteady on his feet.
At about midnight, there was a reported altercation and Mr Campbell-Tapson collapsed on to the dancefloor and started fitting, before door staff carried him outside.
A mobile paramedic arrived at 00:13 BST and found a crowd of about 50 people around him on the pavement.
He had a body temperature of 47.2C (117F), which Ms Brown described as "quite extraordinary".
Mr Campbell-Tapson died in North Devon District Hospital.
Tragic loss
The cause of death was given as the toxic effects of MDMA. The amount of MDMA in the teenager's blood was found to be 1.54 mg/l.
Toxicologist Peter Beresford told the hearing some fatalities have been reported at 0.4 mg/l, and called it a "significant level".
Mr Campbell-Tapson's mother Claire Campbell read a statement thanking emergency services and hospital staff for their "compassion and respect".
She also paid tribute to "family, friends and the wider community of South Molton" for their "love and support".
Ms Brown described the death as a "tragic loss of a young life" and a "random, unpredictable turn of events".