Man dives into Devon river to save seagull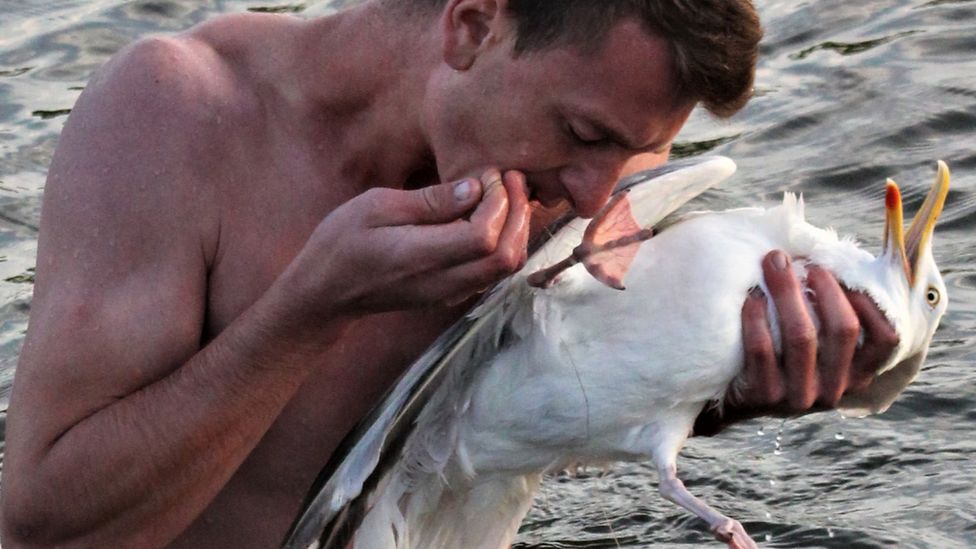 A man dived into a river to save a seagull that was thrashing about after it became stuck in fishing wire.
Martin Bennett, 57, was nearby taking photographs of the sunset on the River Taw, Barnstaple, Devon, when he spotted the stranded bird on Tuesday.
He saw a man rush over, strip down to his underwear, plunge into the river and bite off the fishing wire to free the seagull before it flew away.
The RSPB praised the man but urged people to contact the RSPCA.
Photographer Mr Bennett said the man bit off the fishing wire that was tangled around its wings and legs.
"If he hadn't gone out after it, I'm sure it would have drowned," he said.
The man checked over the bird before releasing it, he said.
Tony Whitehead, from the RSPB, said: "Big pat on the back to the mystery man who bravely dived into the river to save this stranded gull.
"However, we would not usually advocate people putting themselves in danger to save an injured bird.
"We would recommend anyone who finds themselves in a similar situation to contact the RSPCA, which has the expertise and equipment to deal with these situations."
Related Internet Links
The BBC is not responsible for the content of external sites.