Totnes declares 'city state' in Brexit protest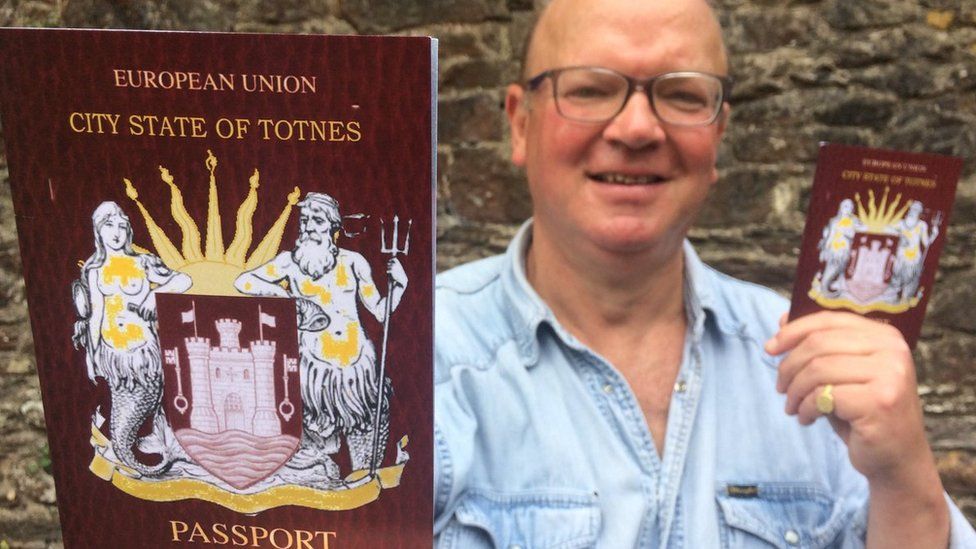 Campaigners against Brexit have declared their town an "independent city state" to demonstrate their opposition to leaving the EU.
The Remainers of Totnes in Devon have issued an oath of allegiance to the EU and even a passport for "a bit of fun".
Organiser, barrister Jonathan Cooper, admitted there were no legal grounds for the move which was "an antidote to the current chaos around Brexit".
A businessman who supports Brexit said he could understand their concerns.
Mr Cooper said it was a "bit of fun" that would make no difference to the way the town was run, its trading with Europe or immigration.
"But there is a serious side to it, he said.
"There's so much to be had from being a European citizen and we really don't want to give up our European citizenship.
"We want to have access to Europe because we are part of Europe and Totnes in particular has its roots in Europe."
Totnes is in the South Hams area of Devon which voted 52.9% to remain in the EU referendum in 2016.
Mr Cooper and a handful of supporters placed an announcement of the new city state on the door of the town's medieval guildhall and handed out passports to passers-by.
The passports have an image of Prince Brutus of Troy who founded Totnes according to legend.
There is a large stone - the Brutus Stone - set into a pavement in the town where the prince is said to have stood.
Mayor Judy Westacott said: "People are always curious to see the quirky character of our town and if it brings in more people I am all for it.
"As long as it has no legal position then I have no problem with it."
Devon businessman Mark Hartley-Norton said he could understand the campaigners' concerns about the "chaos" around leaving the EU, adding: "This campaign isn't going to change things."