Student blocks approved in Plymouth despite opposition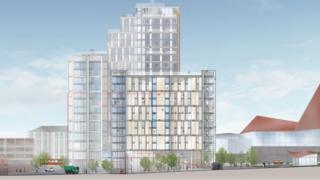 Another 620 students could be living in a city centre after plans for two high-rise accommodation blocks were backed.
Plymouth City Council planners approved a 21-storey block at Plymouth's Drake Circus and a seven-storey block nearby.
The proposed building, on the site of the city's Moneycentre, will have 554 beds and a 105-bed hotel.
The University of Plymouth objected to the 21-storey block, saying it did not believe there was unmet demand for student accommodation in the city.
As well as the 21-storey block, a smaller seven-storey development next to Grade II-listed Drake's Place Reservoir will have accommodation for 66 students.
More on the latest stories from Devon
There are already about 5,200 purpose-built student bed spaces in Plymouth, including around 1,000 rooms at 23-floor Beckley Point and nearby Mary Parker House, which both opened last year.
Owners of 90-bed St Augustine's House, which was granted planning permission in 2010, recently asked for consent to use some of its rooms as hotel space because they were having trouble filling them with students.
Manny Pisani, who chairs the Westcountry Landlords' Association, has previously warned that many of the student accommodation blocks being built in Plymouth risked becoming white elephants.
"Is there really a need for them?" he said. "The key thing is some students would prefer to be with their friends rather than in blocks.
"Why should a student want to live in solitary confinement, when they could mix with others? I think they will become apartments and be sold off for daft money."
Twenty-three letters of objection and a 75-signature petition were received about the 21-storey block.
Campaigners said seven storeys was too high, the development would harm the surroundings of many of the listed buildings nearby and it put the needs of students above that of residents.