Invasion of toxic caterpillars closes parts of seaside town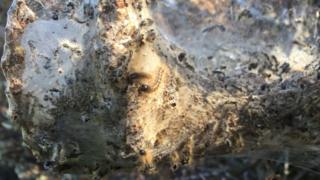 People living in a seaside town are being warned about an invasion of toxic caterpillars that can cause skin irritations and headaches.
Parts of Budleigh Salterton have been cordoned off but officials say there are no plans to spray the area to get rid of the insects.
It is hoped birds will eat them instead.
East Devon District councillor Alan Dent says they have been causing problems in the town for two weeks.
"They crawled off nests at the bottom of the cliffs, swarmed over the beach huts and they were dropping off the roof and coming inside," he said.
"One particular lady was pouring water into a kettle and that's how she came into contact with the caterpillars.
"And she's still got a rash up her arm two weeks later and it's causing her concern."
Parts of the Lime Kiln car park and Steamer Steps in the seaside town have been cordoned off.
Anyone touching the brown-tailed moth caterpillars can get a rash and they can cause breathing difficulties for asthmas sufferers.
They like to build their silk-spun nests in bushes including hawthorn, blackthorn, plum, cherry, rose and blackberry and emerge in the spring.
Moth caterpillars close to a coastal path in Norfolk were removed and destroyed earlier this month.
In London last month, residents were warned about an outbreak of Oak processionary moths - the caterpillars can cause similar symptoms to the brown-tail moth caterpillar.