Riders 'too fat' for Dartmoor trek horses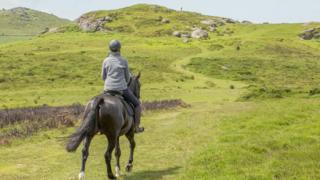 A horse-trekking firm says it is having to close - in part - because riders are getting too fat.
Numbers of people turned away from Babeny Farm on Dartmoor because they broke weight restrictions has risen by about 30% in the past seven years.
Boss Dee Dee Wilkinson said the trend puts the animals' health at risk and she cannot afford to buy larger horses.
It comes after a study by the Animal Health Trust into the impact of riders being too heavy for their horses.
More on this story and others from Devon
Ms Wilkinson said: "We are finding increasingly that people are getting heavier, so we are unable to let them ride as it isn't fair on the horses."
Danger to the horses include back injuries and lameness.
Riders are asked their height and weight before booking, but anyone over 16 stone is turned away.
You may also be interested in:
Anyone who is clinically obese is also turned away because of the risk they could not handle a bigger horse.
Ms Wilkinson, who has 13 horses, said the increase in overweight riders was one of the reasons for the trekking firm announcing it is to close.
She said the main reasons were term-time restrictions on when families can take holidays and rising insurance costs.
'Simply for safety'
"Obesity has become really noticeable over the last seven years and it has been increasing," said Ms Wilkinson who gets about 40 customers over an average summer weekend.
"I've had 5ft (1.5m) tall people who are 16 stone (102kg) and a 12-year-old who was 12 stone (76kg) and we don't have the horses for them," she said.
"We are also getting more people who are 18-25 stone (114-156kg).
She added: "We're not about ostracizing a part of society, it's simply for the safety of the horses and the riders."
Last year the Great Yorkshire Show asked 12 competing riders to dismount because of concerns about them being too heavy for their horses, the second time the show had taken such action.
Animal Health Trust vet Dr Sue Dyson is aiming to produce "definitive guidelines" on weight and horse size ratios which will make it safer for horses and riders.
She said: "It needed to be addressed urgently because people are getting heavier at an alarming rate.
"We as vets face it on a daily basis when we have to tell people that they are too heavy for their horses."