Crooked Devon undertaker kept hold of ashes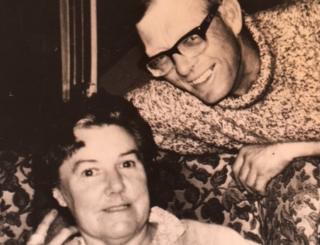 Bereaved families have been reunited with their loved ones' ashes which were stored by a crooked funeral director for up to 17 years.
The ashes were kept at Robert Loveridge's premises in Teignmouth despite relatives' pleas to get them back, as first reported by Devon Live.
Loveridge was jailed last year for a series of theft from charities.
Undertaker Kevin Lack found the ashes of 76 people at Loveridge's premises during a purchase inspection.
More on this story and others from Devon
He managed to contact some of the relatives after checking the names on the ashes, which were found stored in plastic bags.
Alison Clark has now been reunited with the ashes of her parents Joan Hook, who died in 2001, and Snowy Hook, who died in 2010.
She said: "I tried to go to Loveridge's office and I emailed him.
"I said 'I want the ashes' but you are dealing with a chap who stole from a children's hospice."
She said it was "wonderful" when she got a letter from Torbay undertaker Mr Lack.
"My dad was quite a well known character in Shaldon," she said.
"Now my parents are together, they were married for nearly 50 years.
"I cannot thank Kevin enough, it's been completely altruistic, he did not have to do that for us."
Ms Clark said: "I can't get over that Loveridge was local and knew all his victims and he has never said sorry.
"He walked out of that building knowing he would never return and leaving those ashes behind to be dumped."
Among the charities which Loveridge stole money from was Children's Hospice South West.
Mr Lack, who did not buy the Loveridge business, said he had been able to trace relatives of half the number of people whose ashes were found.
"For us that's what it's all about - just to get them back from where they should be," said Mr Lack who acted out of a "sense of duty" to the bereaved.
"After 30 years I still have a passion for what I do and I think it's right that everybody should be treated the same way," he said.
The BBC has tried to contact Loveridge for comment.