Man dies after fishing boat capsizes off Plymouth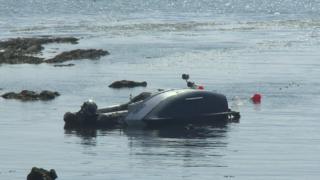 A man whose fishing boat capsized in view of bank holiday beachgoers has died, police have said.
The 52-year-old was thrown into the sea off Plymouth when his 20ft (6.1m) vessel, Laura Jane, ran into trouble at about 12:55 BST on Monday.
He was pulled from the water and airlifted to hospital, but was pronounced dead.
The Marine Accident Investigation Branch is investigating the cause of the capsizing.
The latest stories from Devon and Cornwall
Devon and Cornwall Police said the man's relatives had been informed.
Coastguards said attempts were being made to recover the vessel.