Dean Lowe denies murdering Kirby Noden in Marazion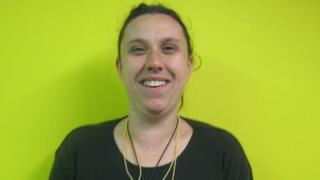 A man accused of murdering his ex-girlfriend said she set him up by spraying her own blood around a room and leaving meat on the floor.
Dean Lowe, 33, is accused of murdering Kirby Noden in January 2017 at the flat they shared in Marazion, Cornwall.
The prosecution alleges he beat her to death with a rock and a metal pole, then flushed body parts down a toilet.
Mr Lowe, of Beacon Road, Marazion, has pleaded not guilty to one count of murder at Truro Crown Court.
The jury was told Miss Noden has not been seen since January last year.
Chaotic lifestyle
Giving evidence Mr Lowe said after they split up his former girlfriend came back to the flat with two men who drugged, attacked and raped him.
At the same time Miss Noden sprayed her own blood around the flat from a bag and dropped meat on the floor, he told the jury.
The court was told the couple, who are both from Cheshire, lived a chaotic lifestyle and used illegal drugs.
The prosecution told the jury Mr Lowe attacked Miss Noden in their bedroom, beating her to death, and her blood was found throughout the flat.
Mr Lowe said he believes she is living in South Africa with a man called Dan where they are doing missionary work.
The trial continues.