Jeremy Corbyn 'delighted' with Labour win in Plymouth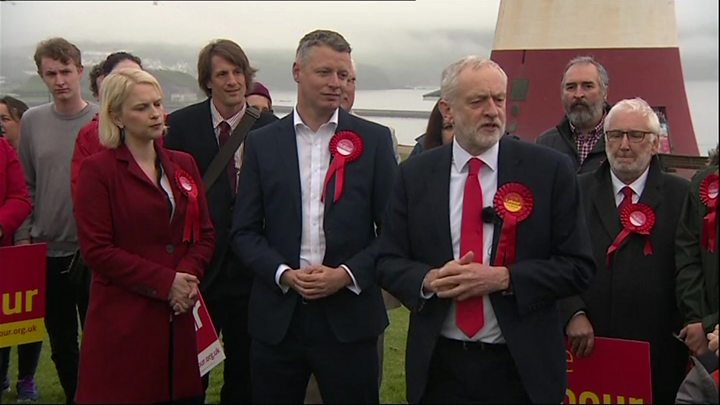 Labour has taken control of Plymouth City Council from the Conservatives, gaining four seats.
The party's leader Jeremy Corbyn spent the early part of Friday in the city celebrating the result with supporters.
Conservative MP for Plymouth Moor View, Johnny Mercer blamed the loss on the government's handling of defence.
Mr Corbyn told party members he was "delighted Labour had won in Plymouth" as the party made fewer gains nationally than supporters predicted.
Standing in front of Smeaton's Tower at Plymouth Hoe he said: "[I'm] delighted of the manifesto Labour put forward in Plymouth and absolutely proud of the incredible work done by all of our Labour activists."
Mr Corbyn added: "We have won because the Labour party here stood up against low pay and against under investment by the government."
More reaction and analysis from the local elections in Devon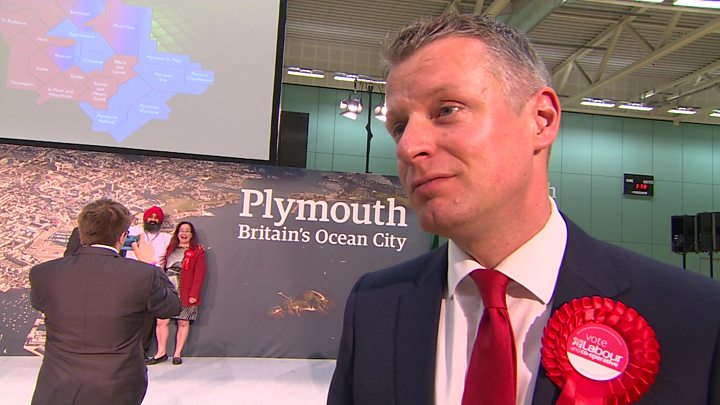 Tudor Evans, Plymouth's new Labour leader, said voters had returned the party to power at "the first opportunity".
Labour now has 31 councillors in Plymouth, the Conservatives have 26 and UKIP have none.
Labour lost its majority in Plymouth in 2015 and the Conservatives took over in 2016, backed by UKIP.
UKIP's three councillors quit the party in September 2017 and joined the Conservatives.
Defence was 'biggest factor'
Describing Labour's win as a "triumph for voters" Mr Evans said: "The first opportunity they had to vote back in their Labour council they did. They've put that trust in us once again."
Ian Bowyer, the outgoing Conservative leader of Plymouth city council said they fought the campaign on a positive message.
Mr Mercer said: "I think across the country, clearly, it's not been a good night for Labour, but certainly challenging down here."
The MP said on the doorstep voters believed the military was reducing under the Conservative government.
"It's pretty clear to me the biggest factor in this city is defence," he said. "It always has been."
Labour has 29 councillors in Exeter, the Conservatives have eight, Liberal Democrats and Greens each have one.
The city's Labour group leader Pete Edwards said the result showed the party had people's backing to carry on.
However, Exeter Labour MP Ben Bradshaw said his party should have had a better result in local elections across England.
He said: "Labour at this stage in a parliament with a totally incompetent government making a Horlick's of Brexit should be doing much better.
"The party certainly will need to reflect as we need to be doing very very well at this stage of parliament to have any hope of winning a general election."
Mr Corbyn responded by congratulating Mr Bradshaw on the Labour party holding Exeter.
He said: "If you look at the overall picture Labour gained a lot of seats across the whole country and gained votes in places where we never had votes before.
"We had a very very effective campaign across the whole country and I'm very proud of those councillors who got elected."
The Liberal Democrats retained their single seat in Exeter.
Making gains
Andrew Leadbetter, leader of the Conservative group in Exeter said he was very pleased with the results.
He said: "We need to work hard, we need to make gains and we need to hold Labour to account."