Man arrested after smashing pub windows with axe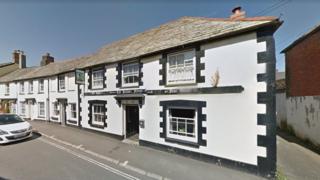 A man has been arrested after smashing the windows of a pub with an axe.
Bruce Priddy, landlord of the Golden Fleece pub in Holsworthy, Devon, said he was upstairs when the man "went berserk" and saw him walking away from the property.
Armed police responded to the incident, along with helicopter support, at about 14:50 BST.
Officers said a 20-year-old man was in custody but there were no reports of any injuries.
After hearing the windows break, Mr Priddy said he went downstairs where he saw the man walking off.
"I thought, I'm not going to face a man with an axe," he said.
He added he was "grateful" no-one was hurt in the incident.
A police spokesman said the man was located and arrested at about 18:30 "without further incident" on suspicion of "causing criminal damage and affray".