WW1 hero honoured 100 years after daring submarine raid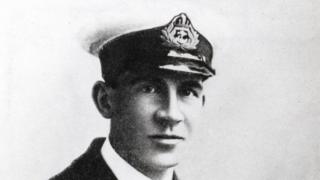 A man awarded the Victoria Cross (VC) for leading a daring naval raid during World War One has been commemorated on the centenary of the event.
Lt Richard Sandford, from Exmouth, Devon, blew up his submarine at the entrance to Zeebrugge port in 1918, in order to block German U-boats.
After the raid, he and his crew escaped in a rowing boat before being rescued.
The flagstone honouring his heroics has been laid in his hometown during a dedication service.
Lt Sandford's operation was part of the Zeebrugge Raid on 22 and 23 April 1918, which was an attempt by the Royal Navy to block off the Belgian port to German vessels and therefore keep them out of the English Channel.
Zeebrugge Raid 1918
Zeebrugge was an outlet for German U-boats and destroyers into the English Channel
The British plan involved sinking three old cruisers in the canal channel to block it
The three boats would have to pass the harbour mole (pier) with a battery at the end, before being scuttled
The mole was stormed but the battery remained in place
Two of the ships were sunk in place, but the Germans soon managed to make a new channel around them
Eleven men were awarded the Victoria Cross for their role in the raid
Source: BBC History
Aged 26, he was a lieutenant commanding an HM Submarine C3 - one of two old submarines filled with explosives were to be used to blow up the viaduct connecting the mole - a large solid structure serving as a pier - to the shore.
As part of the same operation, about 200 Royal Marines were to be landed in an attempt to destroy German gun positions.
However, the first submarine did not make it to Belgium in time and the marines suffered heavy casualties after coming under fire.
Lt Sandford's VC citation revealed he managed to place his submarine beneath the viaduct which connected the mole with the shore, before laying his fuse and abandoning ship.
The Victoria Cross dedication service is part of the World War One centenary commemoration campaign to honour recipients of the bravery award.
His VC, which is displayed at the Britannia Royal Naval College, Dartmouth, was one of 628 handed out during and after World War One.