Jeans and T-shirt ban for Plymouth hackney-cab drivers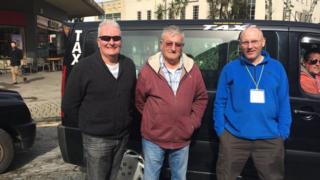 Hackney-cab drivers in Plymouth have been banned from wearing jeans.
A meeting of the city council rubber-stamped new rules, which were approved by the cabinet last month.
The dress code is less restrictive than one originally proposed, but will still include a ban on denim trousers, open sandals and T-shirts.
Each driver must also attend an ambassador course as well as complete a spoken English test and a safeguarding workshop before April 2019.
Tracksuits and hooded jumpers will also be banned.
More news for Devon and Cornwall.
The new dress code, which applies to Hackney carriage drivers only, says "as a minimum standard" drivers should wear:
Collared shirt, collared polo shirt or collared blouse which has a full body and short or long sleeves
Smart long-legged trousers (no denim), knee-length tailored shorts, knee-length skirt or dress
Footwear for all drivers shall fit around the heel of the foot
Drivers will also be banned from using e-cigarettes while they have passengers on board.
The new guidance says: "In order to maintain a pleasant environment for all passengers, the use of e-cigarettes or similar devices within the vehicle is prohibited while driving with a passenger."
Additionally, taxi drivers could have their taxi licence reviewed if they accumulate 12 penalty points or more for within a rolling period of 36 months.
Hackney driver Kevin Mann said he totally agreed with the spoken English test and most of the dress code.
"Driving in flip-flops is absolutely ridiculous and I agree with the ban on hoodies," he said.
"I'm not so sure with the ban on jeans - if the taxi breaks down or you've got to change a tyre you could ruin a good pair of trousers.
"All in all, though, I think it's okay."