Uni drops Cambridge Analytica executive as fellow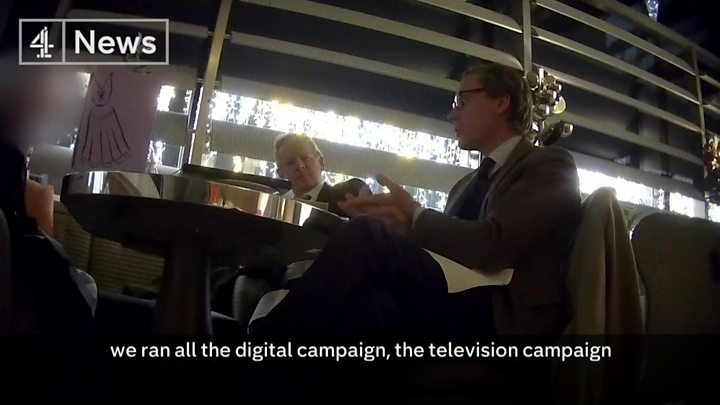 A senior executive with political consultancy firm Cambridge Analytica has had his role at the University of Exeter revoked
Mark Turnbull was an honorary fellow of the university's Strategy and Security Institute (SSI), a research centre.
Mr Turnbull was secretly filmed meeting with Channel 4 reporters purporting to be interested in hiring the firm to help with elections in Sri Lanka.
The removal was supported by local MEP Molly Scott Cato.
More news from Devon and Cornwall.
Cambridge Analytica is accused of using the personal data of millions of Facebook users to influence how people vote.
The political consulting firm is facing questions over whether it used personal data to sway the outcome of the US 2016 presidential election and the UK Brexit referendum.
In pitching the company to an undercover reporter, Mr Turnbull is filmed with colleagues admitting the company's involvement in selling data collection and profiling services to clients in Mexico, Malaysia, Brazil and China.
On the University of Exeter's website it says the SSI "carries out research, consultancy and teaching in the fields of global security and strategy".
In his own entry on the university's website, which has now been removed, Mr Turnbull was described as having "unrivalled experience in delivering campaign success via measurable behavioural change".
On being a member of the SSI, Mr Turnbull said he had seen the "power of 'strategic communications' to nurture the emergency of stable, inclusive political orders," adding he was "excited by the opportunity" to contribute "insights" from his work to the institute.
In light of the allegations surrounding Cambridge Analytica, a university spokeswoman said: "We have written to Mark Turnbull to confirm we are revoking his Honorary Fellow status."
Green Party MEP for the South West of England, Molly Scott Cato, said the appointment was "inconsistent" with the university's role in "educating young minds" and "stimulating open honest debate".
Welcoming Mr Turnbull's removal from the university, she said: "His original appointment underlines the problems of giving those with minimal academic records positions of influence in universities and how this can damage their reputation."