Tom Daley and Dustin Lance Black expecting baby boy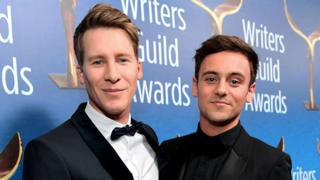 Tom Daley and his US film-maker husband Dustin Lance Black have revealed they are expecting a baby boy.
The couple announced the pregnancy last month and have now revealed the baby's gender.
Speaking on Fearne Cotton's Happy Place podcast, Olympic diver Daley, from Plymouth in Devon, said: "We're going to have a little boy."
The pair are having their child via a surrogate and said they had received some negative feedback.
Daley, 23, said: "With Kim Kardashian West, people felt sorry she's not able to have to have a child because of health reasons 'how lovely it is that a surrogate has been willing to do that'.
"But for every other gay couple that is not able to have a child, but desperately would love to bring up a child like any heterosexual couple, we have been treated quite differently."
Daley and 43-year-old Black got engaged in 2015, making the announcement in The Times. They married in Devon last year.
Daley won bronze medals at the Olympic Games in London and Rio de Janeiro.
Black won the best original screenplay Oscar for the 2008 film Milk, which was based on the life of gay rights activist and politician, Harvey Milk.