Devon snow: Hundreds stuck on snowy A30 in Okehampton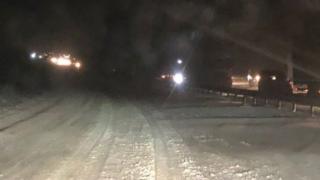 About 300 cars are stuck on a main road in Devon after snow made the route "impassable".
The hundreds of people stranded on the A30 in Okehampton have been told to stay in their vehicles and not take "unnecessary risks" by walking in "dangerous conditions".
Ch Supt Glen Mayhew said officers were trying to get drivers and their cars to emergency centres nearby.
Drivers have also been stranded on the A38 near Chudleigh and at Haldon Hill.
More snow updates from Devon and Cornwall.
In the wake of Storm Emma, travel reports at about 18:15 GMT first suggested there were issues on the A30, including reports of a broken down lorry.
One driver, who only gave his name as Eddie, said he had been stuck in his car in the snow at Okehampton, trying to get to Exeter, for about six hours.
He said the problems were caused by lorries blocking the dual carriageway.
Ch Supt Mayhew said further south, the A38 near Chudleigh had been shut "due to the snow conditions" and looked to be a "vulnerable location" as more snow was forecast for the area.
'Still stuck'
He said reception centres offering comfort had also been set up at south Brent for drivers stuck in that area.
On Haldon Hill, near Exeter, cars are being let through "in single numbers" after icy conditions caused vehicles to become stuck, Ch Supt Mayhew said.
"We still have lots of vehicles which were stuck earlier and are still stuck on Haldon Hill," he said.
Meanwhile, police in Somerset are dealing with 100 stranded cars on the A303 at Ilminster, and a further 20 on the A358 at Thornfalcon.