Devon steam train floor missing for months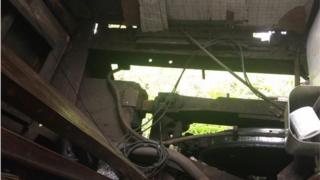 A floor on a steam train had been missing for two months before a boy nearly fell through it, a report says.
The Rail Accident Investigation Branch (RAIB) said the toilet floor on the 1957-built carriage train had rotted and been removed last April.
But the carriage remained in service until June, when the boy was saved by his mother who grabbed him before he fell on to the track.
Train operator South Devon Railway (SDR) declined to comment.
More on this story and others from Devon
The carriage also remained in service for three days after the incident on 22 June, the report said.
The boy's mother was aware that the toilet had been marked out of use, but before she could warn her child he had pushed open the door.
The report said the door had been secured shut with a screw but that had failed to stop it from being opened.
"The mother reacted quickly and grabbed the child's arm, preventing him from falling onto the track," the report said.
The investigation found that the duty officer failed to report the incident immediately to the RAIB.
The next day the boy's mother sent an email demanding to see the accident report.
But the carriage remained in service until 25 June "when the potential seriousness of the accident was realised" by another officer who alerted the RAIB.
SDR has been told it should improve its monitoring and reporting procedures.
The RAIB recommended that the SDR's "out of date" safety management system should be "independently reviewed and any changes identified as necessary should be implemented".
An SDR spokesman said that it would not be commenting until a separate investigation by the Office of Rail and Road had finished.