Classic cars taken up Lynton and Lynmouth cliff railway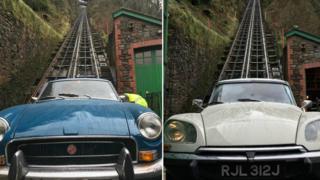 A water-powered Victorian cliff railway has been used to transport cars for the first time in 50 years.
A selection of classic cars were loaded individually onto the Lynton and Lynmouth cliff railway in Devon, to be transported 862ft (263m) to the top.
The last time cars were transported on the funicular railway was in 1952, to get them out of Lynmouth after major flooding.
It was also used in a marketing stunt in the 1960s to carry an E-type Jaguar.
More Devon and Cornwall stories
The cars were taken up the railway, which links the two coastal towns, as part of a photo shoot for a magazine.
Rob Shaddick, director of the railway said: "We got involved with Practical Classics magazine who were originally trying to locate a car from an old photo, and it sort of got out of hand.
"Now here we are sat on the railway in my Triumph, on the railway that my great-great-grandfather built."