Audi car crashes through shop window in Tiverton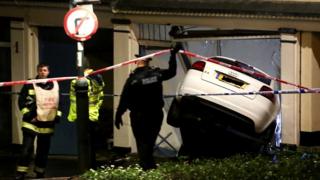 A car crashed through a shop window after the handbrake failed.
The empty Audi A3 was left wedged in the building in Tiverton, Devon, on Thursday evening.
Nobody was injured in the crash which happened when the car careered down Angel Hill and went over a bollard before crashing into the disused shop.
Firefighters, police and a structural engineer attended as there were concerns a gas main in the building may have become damaged in the crash.
More on the crash and other Devon and Cornwall news
The car has since been removed from the shop.