Royal North Devon Golf Club course at risk from erosion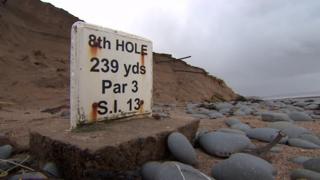 Parts of England's oldest golf course have been washed away by recent storms, and more damage is feared by staff.
Earlier this month Storm Eleanor ripped 49ft (15m) of land away from behind the eighth tee at the Royal North Devon Golf Club in Westward Ho!
General manager Mark Evans said "we could lose the [seventh] green in early February with the high tides predicted with the wrong wind conditions".
An adjoining landfill site could also be at risk.
More Devon and Cornwall stories
The tee marker for the eighth green has been washed on to the beach, which is alongside the 154-year-old course.
The seventh green is now within 49ft of the shoreline and boulders are strewn across that part of the low lying links course.
The land the golf course is built on is designated as a site of specific scientific interest.
Natural England, which controls the land, said it had no plans to improve the sea defences.
It said in a statement: "The dunes and shingle ridge are naturally dynamic coastal features and subject to constant change."
It also said the golf club can build two new greens, but must relinquish two existing ones within three years if it does so.
Nick Laws, from Torridge District Council, said a landfill site that was used for 50 years until 1995 could also be at risk if there is further flooding.
"There are hundreds of thousands of tonnes of rubbish which would be at risk," he said.
"I can accept that it's a retreat but it has to be a controlled retreat. There is no control.
"There has to be a line to say we have to stop it because there will be an environmental disaster."
Jane Whittaker, leader of Torridge District Council said a meeting between all of the agencies involved is being set up.