Speeding motorcyclist caught by own helmet camera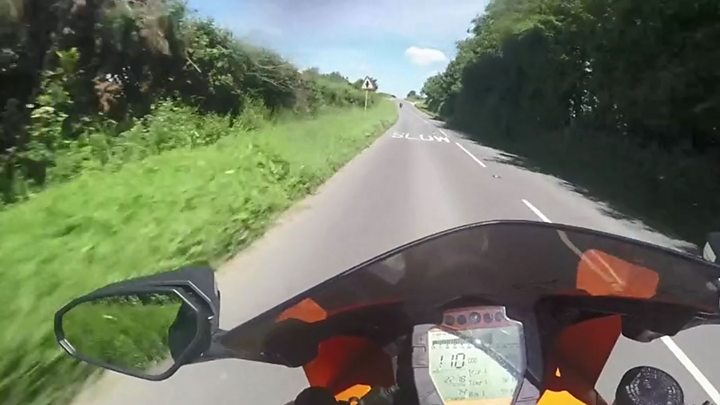 A speeding motorcyclist who was caught out by footage on his own helmet camera has been sentenced.
Nicholas Pannell, 30, crashed into a hedge as he raced fellow biker Joshua Illingworth, 29, at speeds up to 118mph last July.
A recording of the pursuit was found on Pannell's camera when Devon Police were called to the scene.
The pair were both given eight-month jail terms, suspended for two years, at Plymouth Crown Court.
Pannell crashed his motorbike through a hedge on the A381 near Halwell, in the South Hams, on 2 July, the court heard.
'Insane thing'
Illingworth had been racing him, despite them not knowing each other beforehand.
Police reviewed the footage, which showed Pannell him doing 91mph (145km/h) in a 30mph (48km/h) limit and 102mph (166km/h) in a 40mph (65km/h) zone in the village of Aveton Gifford.
More news from Devon and Cornwall
Illingworth was ahead of Pannell, so police knew he was going at least 118mph when they were racing.
Sentencing, Judge Simon Levene told the pair they were "good men who had done an insane thing".
The men, who admitted dangerous driving at an earlier hearing, have also been disqualified from driving for a year and given 180 hours' community service.