Millionaire raffles £3m mansion for £10 a ticket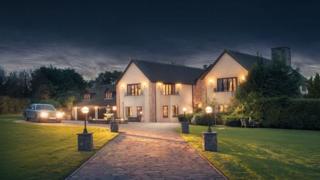 A mansion worth an estimated £2.3m is being offered as a raffle's star prize.
The current owners, who want to remain anonymous, said they thought "selling the house through a competition would be a fun thing to do".
The winning bundle also includes a Rolls Royce and staff for a year.
Twenty percent of the £10 ticket price will go to the British Red Cross, the Make A Wish Foundation and Help For Heroes.
The owners, who built the property near Tiverton, Devon, said they were moving to spend more time with their grandchildren and decided to do things a little differently.
"We don't want the hassle of moving everything out," they said.
"We just want to walk out with our clothes, personal possessions and family photos.
"That also means the winner has a ready-made home to walk into."
The prize includes:
10 acres of land
A four-bedroom mansion
A leisure complex complete with a swimming pool, gym, sauna and changing rooms
£50,000 cash
A Rolls Royce
A three-hole golfing green
The services of a gardener and housekeeper for a year
A self-contained apartment with its own garden
A tractor and a quad bike
A wine cellar
600 spare light bulbs for every lamp and fitting in the house
Julie Milnes, director of High Value Giving at the British Red Cross, said: "We're delighted to be a part of this exciting opportunity, and incredibly grateful to the owners of this wonderful home for their generosity.
"Every pound raised will help us continue our vital work, supporting millions of vulnerable people in the UK and abroad withstand emergencies and crises in their communities."
In addition to the main prize, nine runners up could win £10,000 each.
The Win a Millionaire Mansion competition will run until November 2018.