NHS cuts protest disrupts Totnes traffic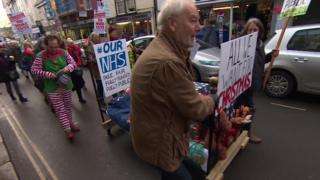 Hundreds of protestors disrupted traffic and Christmas shoppers as they marched through a town centre.
The protest in Totnes, Devon, was over the loss of two hundred hospital beds and four community hospitals - and the threat of further cuts.
Save Our Hospital Services campaigners wheeled a hospital bed and carried placards through streets on Saturday.
Torbay and South Devon NHS Trust said its "aim was to provide the best possible care for local people".
Managers are looking at whether to close some A&E, maternity and stroke services at hospitals across the county so they can be centralised at bigger sites, which some protestors claimed could be "devastating".